If you are a Pakistani citizen and want to apply for a family permanent resident visa in Canada, this is the best way to go about it. There are many reasons why you might want to do so too! For example, if your spouse or common-law partner lives in Canada and has been there for at least one year before applying, they can sponsor their spouse or common-law partner with an application from within Canada. This will allow them to enter Canada as a permanent resident from abroad.
Best way to Apply Family Permanent Resident Visa
Canadian citizens have many options when it comes to applying for family visas. You can use from inside of Canada or from a third country overseas. But before you decide which way is best for you, there are some things that you need to keep in mind. Pakistani citizens face a few challenges that other nationalities do not have to worry about. so this blog post will go into detail on the best way for them to apply for a Canadian family visa – without any hassle!
If you are thinking of applying for a family visa in Canada, then there is the best way that would help you. The first step involves getting your application package from the Canadian embassy. Consulate in Pakistan where you will be applying. It contains all the documents needed for your application form to be processed successfully.
Contact Immigration Advisors
Contact one of our immigration advisors by calling us on +1519330-4688 or completing the form at www.canadaprimeimmigration.com. We will assess your eligibility, discuss your objectives and help you with your application process so that all the documentation required can be sent ahead of time.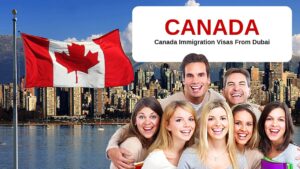 If your spouse or common-law partner lives in Canada, then he/she can sponsor you to come live with them.
You will need to provide certain documents before applying. There are four categories of documents that may be required depending on your situation:
(1) Identity and criminal background checks
(2) Proof of financial support
(3) Medical certificate form signed by a physician within one year prior to the date of application's submission
(4) Durable relationship information forms.
Proof of your Relationship
You will also need proof of your relationship with the sponsor, proof of your financial situation, and more. The first category is Proof of Sponsorship. This must be submitted by your sponsor, who should provide all necessary documentation proving they can support you financially while living in Canada. You also need to provide an Affidavit of Support which is sign by the applicant's sponsor. Two other people who can attest to their financial soundness (such as a bank manager).
When the Canadian government announced that it would be welcoming 10,000 more immigrants from Pakistan in 2017, many of them were excited about this opportunity. However, there was a lot of confusion about how to apply for a family visa in Canada and what they needed to do so. I hope this article helped you in getting insights into how to apply for a family visa.