The Canadian government has started a new program that allows entrepreneurs from all over the world to get Permanent Residency in Canada. The Start-up Visa for Canada is available for applicants who have been accepted into a full-time accelerator program and can prove they have at least USD 200,000 in investment funds. Similar to other Permanent Resident visas, this visa includes an open work permit which allows you to start your business or work for any employer you choose while still being eligible for Permanent Residency status.
Best opportunity Startup Visa for Canada
The start-up visa for Canada is a Permanent Resident Visa, and it can be obtained by entrepreneurs who intend to start their businesses. If you want to come to Canada and create your own business, there are three things that you need:
-A Permanent Residence application form 
-Documentation supporting the permanent residence application 
-A letter from a Canadian financial institution confirming that they will provide enough funds for you to establish yourself in Canada
Canada is a country that offers Permanent Visas to eligible applicants who wish to start a new life in this beautiful country. Permanent visas are long-term immigration permits for people who want to settle permanently in Canada and have the ability and skills to contribute positively on their arrival. Permanent visa holders can also apply for citizenship if they so choose. The process of applying for a Permanent Visa is complex but not impossible with a few tips from an experienced Immigration Lawyer like me! 
What do you need to get a Permanent Visa
To get Permanent Visa, you will need:
– To be 18 years or older 
– Have enough money saved up or the means of support while living in Canada 
– Be able to speak English or French at an intermediate level
The Permanent Residence Program in Canada is one of the most sought-after immigration programs in the world. Permanent residents are eligible for Canadian citizenship after living in Canada for three years, and they can live anywhere in Canada. The permanent residency also offers many benefits, including access to all public services, protection under Canadian law, and eligibility for government jobs.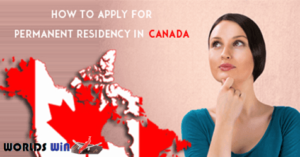 However, suppose you are interested in immigrating to Canada but don't want to wait until permanent residency becomes available (which could take up to 10 years). In that case, a start-up visa for Canada maybe your best option. A start-up visa for Canada allow business owners or entrepreneurs with innovative ideas that can contribute significantly to the economy of Canada to apply for temporary residence while their application is being processed.
There are many reasons why someone may want to start a new life in Canada. However, permanent residency and citizenship can be difficult and costly, and it can take years before you're eligible for them. For some people, the best option is to apply for a start-up visa for Canada. This article will walk you through the procedure of getting your start-up visa for canada so that you can legally live in the country.
Permanent Resident Visa (PR)
The Permanent Resident Visa (PR) is a Canadian Permanent Residence visa that allows you to live and work in Canada indefinitely. In addition, it enables you to travel freely within Canada, visit other countries, and return to Canada as often as needed. To apply for the Permanent Resident Visa, applicants must have a valid temporary residence permit or study permit from Citizenship and Immigration Canada. 
To be eligible for permanent residency in Canada, applicants will need:
– Permanent resident status from another country 
– Demonstrated financial resources – Evidence of adequate medical insurance coverage
Why is the Demand for Startup Visas up Scaled?
 1.Permanent Residency to startup Shareholders with 10% shareholding along with their family members
 2. Substantial savings on tuition fee of children as Permanent Canadian residents are charged at domestic fee slab.
 3. Brand name falls under the category of North American business for easy access to the USA and global markets
 4. Permanent Residency is not dependent on business contingencies
 5. North American Investors funding access can be avail 
 6. Cheaper interest rate loans to finance the global operations 
 7. In North America ecosystem expands rapidly 
 8. Various treaties are involve in the residency operations in the US
The Permanent Resident Visa is a great way to live in Canada for people looking for a new home. Permanent residents can work, study, access social benefits, and generally enjoy the same rights as citizens. The Permanent Resident Visa will allow you to gain permanent residence status in Canada if you have been living here legally with temporary resident status for at least one year out of the last three years,
But what about those people who want to come to Canada but don't plan on staying permanently? Well, there's good news! You may be eligible for a Startup Visa, which helps entrepreneurs establish themselves in Canada.
 To Build Businesses that are
1.Innovative in nature
2. Can create jobs for Canadians 
3. Can compete on a global scale and can simplify lives 
4. Average time needed to process the application is 12 to 16 months 
The Permanent Resident Visa is a permanent residence permit that allows qualified applicants and their family members to live in Canada indefinitely. The Startup Visa Program, also refer to as the Immigrant Investor Venture Capital Pilot Program is design for entrepreneurs with business ideas. A person holding this visa can start up a business or invest in an existing one and be eligible for Canadian Permanent Residence after three years of successful operation under the investment agreement. 
To qualify for the Permanent Resident Visa, you must: 
– Have enough funds available (minimum $10 million) – Meet language requirements – Hold no criminal convictions
In Canada, a Permanent Resident Visa is obtain by immigrating to the country and confirming your status. A Permanent Resident Visa does not allow you to work in Canada; however. If you are self-employ or have a startup company approve for a Startup Visa, there are some different requirements. 
A Permanent Resident can Apply for a Startup Visa if he/she meets the following Criteria
1) Have an active business idea that will generate jobs and economic growth in Canada 
2) Provide evidence of secure financing from Canadian investors or financial institution
3) Demonstrate significant potential for growth with detailed projections on job creation and revenue generation 
4) Meet specific government regulations
And here you go, you'll become a permanent resident in Canada.